Art Law Handbook, CD-ROM, 2004 Supplement
***
Questions about artist/gallery/dealer contracts? Go here.
***
The Art Law Handbook edited by Roy S. Kaufman is written for attorneys and others in the legal profession, meaning it's not an easy read, but it's extremely informative, and recommended for anyone with legal problems or issues regarding fine or decorative art. The book covers a wide variety of topics including intellectual property, licensing, First Amendment rights, art theft, artist/dealer relations, international trade in cultural property, auction law, e-commerce, authentication and appraisal, estate plans, and much more. Actual case histories, court decisions, important rulings, and legislations provide additional insight into legal issues affecting artists, collectors, dealers, historians, curators, appraisers, and other art business professionals.
Here's the best part-- and why the Art Law Handbook makes sense for anyone who uses lawyers, contracts, or legal agreements on a regular basis: Every Art Law Handbook comes with a free CD-ROM with templates for numerous proven contracts, releases, notices, forms, agreements, and related documents that can be easily copied onto a computer and customized to fit just about any art business situation. The CD-ROM's selections include export forms, consignment agreements, artist/gallery contracts, purchase agreements, e-commerce and website development agreements, registration forms for stolen objects, copyright licenses, and much more. The CD-ROM also contains the texts of important laws and treaties, art information sources, selected treasury regulations, art-related website listings, and additional relevant information. Other art law books also contain this type of information, but contracts and forms must either be photocopied or manually re-typed and re-configured to be of any use. The Art Law Handbook CD-ROM saves huge amounts of time and insures accuracy of reproduction whether it's being used for research or for copying, customizing, and printing out of finished forms and contracts.
The Art Law Handbook comes with the 2004 Supplement, also edited by Roy S. Kaufman, providing both new and updated legal information and rulings related to a variety of aspects of the art business. Issues addressed include storage and transportation of artwork, e-commerce, copyrights, trademarks, moral rights, First Amendment issues, stolen art, auction house roles in the context of the world art market, and more. Also included are a Table of Cases and an Index for the supplement itself, a Table of Cases for the main volume, and copies of laws or legal forms when applicable.
Aspen Law & Business is a leading publisher and provider of authoritative treatises, practice manuals, services, and journals for attorneys, corporate and bank directors, accountants, auditors, and other business professionals. Their publications may be technical in nature, but in the case of the Art Law Handbook and the 2004 Supplement, laypersons can understand and benefit from reading and keeping current with legal rulings in cases involving art issues.
Art Law Handbook, CD-ROM, and 2004 Supplement edited by Roy S. Kaufman. Aspen Law & Business, New York, 2000, 2004; hardbound, 1164 pages, and softbound, 204 pages; each 7 by 10 inches; Handbook, CD-ROM, and Supplement-- $220; Supplement only-- $167.
Order directly from the Aspen Publishers website or call 1-800-638-8437.

Current Features
How to Buy Art on Instagram and Facebook
More and more people are buying more and more art online all the time, not only from artist websites or online stores, but perhaps even more so, on social media ...
Collect Art Like a Pro
In order to collect art intelligently, you have to master two basic skills. The first is being able to...
Services for Artists and Collectors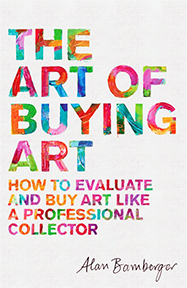 Buy the Book