Hislop's Art Sales Index, Book and CD-ROM 2006
Posted December 15, 2005
Hislop's Art Sales Index 2006, 37th Annual Edition auction record compendium contains 179,000 auction sales results for paintings, prints, works on paper, sculptures, miniatures, and photographs by 45,000 artists of all nationalities and all time periods that sold at 3,500 international art auctions between August 2004 and August 2005. Minimum selling prices for inclusion in the Index are $400 for paintings and works on paper, $1500 for miniatures and sculpture, $3000 for prints and photographs, and $7000 for "style of," "after," "circle of," and so on. In other words, this is the reference to use if you buy, sell, or collect better quality art; if you transact on the lower end, maybe another price database would be more suitable. Each entry contains the artist's name, birth and death dates (when available), nationality, century when active, title or description of the art, medium, dimensions, auctioneer, date of sale, lot number, selling price (in dollars, pounds, and Euros), and a notation as to whether the piece illustrated in the sale catalogue.
The book also contains a list of all catalogued auctions, an alphabetical index of artist name cross references (artists known by more than one name), instructions on how to read entries, a list of artists whose work sold for over $1.5 million during the 2004-2005 auction season, and an auction season analysis.
Those of you who prefer CD-ROM art price database research can use the Art Sales Index CD-ROM 2005-- 2.6 million auction records for 213,000 artists whose art has sold at international auctions over the past 50 years. Art Sales Index CD-ROM is notable for its comprehensive search capabilities. You can search by artist, title, medium, date, and a variety of other variables all on the same screen, all at once. You do not have to search term-by-term, screen-by-screen as you do with similar art price database products.
Hislop's Art Sales Index 2006, 37th Annual Edition edited by Duncan Hislop. Art Sales Index, Ltd., Egham, Surrey, England, 2005, hardbound, dustjacket, 2415 pages, 8 1/2 by 12 inches. $225.
Art Sales Index CD-ROM 2005 edited by Duncan Hislop. Art Sales Index, Ltd., Egham, Surrey, England, 2005. Initial subscription, $499; annual subscription update, $180.
Order from LTB Gordonsart, Inc., 13201 N. 35th Avenue, Suite B-20 Phoenix, AZ 85029, USA. Or call 1-800-892-4622, or order directly from the Gordonsart website.

Current Features
How to Buy Art on Instagram and Facebook
More and more people are buying more and more art online all the time, not only from artist websites or online stores, but perhaps even more so, on social media ...
Collect Art Like a Pro
In order to collect art intelligently, you have to master two basic skills. The first is being able to...
Services for Artists and Collectors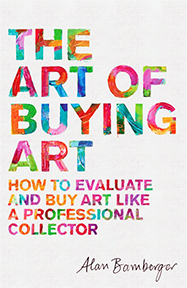 Buy the Book