PRINT PRICES, AUCTION HOUSE DIRECTORY, WHO'S WHO IN ART
Links to the most current updated reviews:
Gordonsart Print and Photography Price Products 2008
Who's Who in American Art, 2007-2008
Gordon's Art Reference, Inc., the definitive source for print prices, has released it's first CD-ROM of retail print prices. Lawrence's Dealer Print Prices Annual, 1999-1992 contains nearly 200,000 individual price entries by nearly 14,000 artists taken from dealer catalogues around the world. It covers Old Master, modern, contemporary, decorative, historical, sporting, topographical, natural history, botanical, and Japanese prints.
Additional features include a three language lexicon of print terms, worldwide directories of fine print and photography dealers with complete contact information, auction houses, extensive bibliographies of print reference books, and instructions on how to use the book form of Lawrence's-- which is also applicable to those using the disc. Searches may be performed by artist, print title, or catalogue raisonne number (when available). For those of you who prefer book to computer research, Lawrence's Dealer Print Prices International, 1999 has over 800 pages and 32,000 detailed entries taken from dealer catalogues published during 1998.
If you think that all you need is the worldwide web for print price research, keep in mind that retail prices are not available on any internet database-- only wholesale or auction prices are. The only way you can assess the retail market is through Gordon's. Three additional benefits of Lawrence's are that it catalogues prices of prints that don't appear at auctions, print collectors can shop from it, and appraisers can use it as a quick and easy way to determine replacement values for insurance purposes. With Gordon's retail and wholesale print price references, you never have to pay too much or sell for too little again.
Lawrence's Dealer Print Prices Annual, 1999-1992, CD-ROM, Gordon's Art Reference, Phoenix, 1999, approximately 200,000 records by 14,000 artists, $495 (subsequent annual updates $195).
Lawrence's Dealer Print Prices, 1999 edited by Jodie L. Benson, Gordon's Art Reference, Phoenix, 1999, hardbound, 812 pages, 8 1/2 by 11 inches, $145.
Both publications available from Gordon's Art Reference, Inc., 306 West Coronado Road, Phoenix, AZ 85003-1147 or call 1-800-892-4622.
***
Who's Who in American Art, 1999-2000 Millennium Edition is the single best source of concise biographical information on nearly 12,000 fine artists, collectors, dealers, consultants, curators, editors, historians, lecturers and other visual arts professionals currently active in the United States, Canada, and Mexico. Data is supplied by the individuals themselves and is subject to strict guidelines imposed by the book's publishers. This is NOT one of those fluff publications where all you have to do is pay a fee and you're in regardless of your qualifications. No one ever pays to be in Who's Who in American Art, but everyone must apply and be accepted.
Biographical entries contain data on education and training, commissions, exhibitions, professional positions, awards, museums holding the artists' work, books and articles by and about them, mediums in which they work, and personal information like names, addresses, and contact information for their dealers and/or representatives. Among other things, people use Who's Who in American Art to locate artists whose work they own, find out how much their art currently sells for, get names of museums they can visit in order to see additional pieces, buy or sell art by listed artists, and find out background information on artists whose work they're thinking about collecting. Artists use the book to contact critics who may be interested in their work and dealers use it to scout out possible future shows for their galleries.
When you find no entry for an artist, check the necrology at the rear of the book. It lists all artists who've died between 1953 and 1998 that have appeared in previous editions. Their birth and death dates are included when available and can be used to approximate the most recent editions in which they appear.
Who's Who in American Art, 1999-2000 Millennium Edition edited by Patricia A. Flinsch-Rodriguez, Marquis Who's Who, New Providence, NJ, 1999, hardbound, 1536 pages, 8 5/8 by 11 1/4 inches, $229. Available from Marquis Who's Who, 121 Chanlon Rd., New Providence, NJ 07974 or call 1-800-521-8110 and press "1" for Customer Service.
***
The International Auction House Directory, 1999/2000 Edition is an idea someone should have thought of years ago, but it's here now and it's the most comprehensive compendium of antiques, collectibles and fine art auction market information ever put together. It lists over 4,000 auction houses in more than 50 countries and also contains helpful articles related to antiques, auctions, and the marketplace in general. A particularly interesting piece by Kate Reynolds discusses a number of different ways that merchandise can be auctioned.
All entries include firm names, addresses, telephone and fax numbers, email and internet addresses, key personnel, specialist departments, client services, branch offices (where applicable), and policy guidelines for buyers and sellers. Firms are listed alphabetically, but are cross-indexed at the rear of the book by geographic location, specialty, and a combination of the two (this one's a little difficult to navigate. Hint to publishers: Put the specialties in bold caps and at the tops of the pages).
The International Auction House Directory is a fantastic research tool for buyers and sellers alike. Serious collectors can use it to locate and contact every auction house on the planet that specializes in what they collect. Likewise, sellers can track down those houses that specialize in what they have for sale in order to maximize their profits. As in the retail end of the business, specialists tend to know more about historic significance and monetary values than generalists, have access to all the major collectors, deal in better quality merchandise, transact at higher prices, and have lower incidence rates of letting treasures slip through their hands unnoticed or being victimized by fakes, forgeries, and other questionable pieces.
International Auction House Directory, 1999/2000 Edition edited by Heather E. Fox, Gordon's Art Reference, Inc., Phoenix, 1999, hardbound, 1314 pages, 8 7/8 by 11 1/4, $245. Available from Gordon's Art Reference, Inc., 306 West Coronado Road, Phoenix, AZ 85003-1147 or call 1-800-892-4622.

Current Features
How to Buy Art on Instagram and Facebook
More and more people are buying more and more art online all the time, not only from artist websites or online stores, but perhaps even more so, on social media ...
Collect Art Like a Pro
In order to collect art intelligently, you have to master two basic skills. The first is being able to...
Services for Artists and Collectors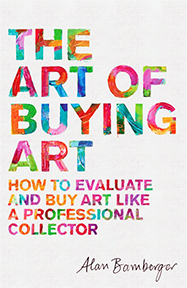 Buy the Book