Most Comprehensive Artist Signature Encyclopedia
Ever Published
Artist Signature Identification from Artbusiness.com >>
***
When it was first published, The Encyclopedia of Artists' Signatures, Symbols & Monograms by H.H. Caplan and Bob Creps was the most comprehensive reference of its kind. But that's changed. Click this link or the above link to learn about John Castagno's artist signatures books and online database-- 50,000 artists and 55,000 signature examples. To learn more about Caplan's book, continue reading this review....
Caplan's artist signatures directory contains over 25,000 cross-indexed signature examples of artists from all time periods and all nationalities-- at least 15,000 more than any existing single volume reference. The directory's four categories-- signatures, monograms, symbols, and illegible or misleading signatures-- allow anyone to research any type of signature regardless of how it appears on a work of art and whether or not it is readable. Previously, researchers had to check multiple directories when they were unsure of an artist's name or nationality.
Several thousand signatures in the Encyclopedia of Artists' Signatures, Symbols & Monograms have never before been published in any directory. These first appearances were culled from hundreds of auction catalogues and art dealer advertisements and include primarily Canadian, American, European, Latin American, Russian, and Australian artists. Every example in the encyclopedia contains the artist's name, birth and death dates (if deceased), nationality, and specialties.
Here are several tips to keep in mind when using this or any other signature encyclopedia:
► Signature directories are most useful when you can't read an artist's name or identify a monogram or symbol on a work of art.
► A signature directory is not a panacea. Matching a signature is only a small part of determining whether a work of art is actually by the artist whose name is on it. Even if you locate a close or exact match in a directory, this does not automatically mean that a signature is authentic. A forger using the same signature directory can learn to fake the signature from the same example that you're looking at for comparison purposes.
► When you don't get a match, this does not necessarily mean that your signature is a forgery. Many artists signed in various ways at various stages in their careers. Although signature directories make every attempt to catalogue all such examples, they do not always succeed.
The Encyclopedia of Artists' Signatures, Symbols & Monograms is not cheap at $245 but is absolutely necessary for anyone who likes to shop for under priced and undiscovered art in offbeat places. If you're an art sleuth, either chip in on a copy with friends or business associates or contact your local public, museum, or university art librarians and ask them to purchase copies for their reference sections.
Update posted March 20, 2008: Dealer's Choice Books is no longer in business. Click the "Art Price References" link to the left to read the latest reviews for artist encyclopedias, price guides, auction database products, indexes, and more.
Encyclopedia of Artists' Signatures, Symbols & Monograms by H.H. Caplan and Bob Creps, Dealer's Choice Books, Land O' Lakes, FL, 1999, hardbound, 860 pages, 8 3/4 by 11 1/4 inches. The original issue price for this book was $245, however it is now out of print, no longer available from Dealer's Choice Books, and only available on from used and rare book dealers.
Still stumped? Many people are. So try Artist Signature Identification from Artbusiness.com. You only pay when the name is positively identified.
***
Good Basic Manual for Amateur Art Restorers
For all of you readers who ask for tips on cleaning and restoring works of art, Gainsborough Products Company in Lafayette, CA may be just the resource you're looking for. They've been selling art restoration supplies for decades and also publish the Gainsborough Complete Manual of Oil Painting Restoration. This illustrated spiral bound volume covers all the basics anyone needs to know in order to get started cleaning and restoring works of art. It focuses primarily on oil paintings, but also includes sections on cleaning and bleaching of watercolors and graphics, treating fungus on paper art, removing blanching (a pale or misty cast on a varnish), packing art for shipping, and working with glazes on frames, furniture, and sculpture.
Gainsborough sells several basic cleaning and varnish removal kits ($64-$178) as well as individual restoration products like neutralizers, cleaners, varnish removers, varnishes, repair putty, glazes, lining canvas, surgical blades, and more. Prices range from $3.00 for a package of cotton swabs to $669 for an "Ecoquest" indoor workplace air purifier. Most art and antique dealers will tell you that they've done minor repairs and touch-ups on their merchandise over the years. Gainsborough products and instructional texts help you do it better.
Keep the following points in mind when practicing art cleaning and restoration:
* Read and obey all warnings on chemicals.
* Work in a well ventilated area.
* Practice on inexpensive works of art until you get a feel for what you're doing.
* Save working on other people's art for later. Do irreparable damage to art that's not yours and you could find yourself embroiled in legal problems.
Gainsborough Complete Manual of Oil Painting Restoration by William Goodenough, Gainsborough Products LLC, Lafayette, CA, 5th printing, 1997, softbound, spiral binding, 80 pages, 10 1/4 by 7 inches, $22. Available from Gainsborough Products LLC, 6680 Alhambra Ave., #249 Martinez, CA 94553 or call 1-800-227-2186 or visit their website.

Current Features
How to Buy Art on Instagram and Facebook
More and more people are buying more and more art online all the time, not only from artist websites or online stores, but perhaps even more so, on social media ...
Collect Art Like a Pro
In order to collect art intelligently, you have to master two basic skills. The first is being able to...
Services for Artists and Collectors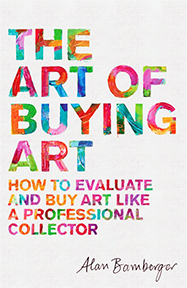 Buy the Book