San Francisco International Art Exposition, Opening Night
The third annual San Francisco International Art Exposition (SF3) opened Thursday evening, September 21 with a gala preview party benefiting the San Francisco Art Institute. Nearly 1,500 patrons, collectors, critics, curators, socialites, and representatives from ArtBusiness.com were in attendance as nearly half a million dollars was raised to support the academic and public programs of the Art Institute which was founded in 1871. SF3 runs through Monday, September 25.
First, the important stuff. The shrimp were really big and the gold medal for technical achievement in hors d'oeuvres went to the perfectly-machined, thimble-sized cucumber cups, each filled to its brim with a smooth tomato-based cream dressing. Food, beverage, and dessert locations were expertly mapped out on the center pages of the Opening Night Preview brochure. Areas with galleries were also noted for anyone interested in looking at art.
100 prestigious international dealers traveled to San Francisco, several from as far as Russia and Korea, to show works by over 3,000 artists. Local dot-comers were stunned-- they thought the only place where you could see this much art for sale at once was on eBay. We particularly liked the Alexander Calder cat toy on display at John Berggruen Gallery and, for you gossip-hounds, we hear that Coldwell Banker will attempt to condominiumize the huge bronze bear sculpture in the entrance foyer when the show ends.
But seriously, folks, this is a world-class art exposition and it couldn't be held in a more beautiful setting. Two pier buildings at Fort Mason Center, directly on San Francisco Bay, are filled with everything from early 19th century Burmese wood carvings to masterworks by artists like Diebenkorn and Motherwell, although the selection is overwhelmingly contemporary. If you need a break, all you have to do is step out the West facing doors of either pier building and you're looking right at the Golden Gate Bridge. The San Francisco International Art Exposition is one of many examples of how San Francisco's fine art profile has been increasing by leaps and bounds in recent years. If you can't make it to SF3, plan to attend SF4. You won't be disappointed.
And now for the visuals:
Lydia Titcomb (right), member of the Board of Trustees of the San Francisco Art Institute, with four smartly clad bunnies by Kathryn Spence at San Francisco's Stephen Wirtz Gallery. Actually, they're called (Figures) Untitled; fashioned of fabric, doll clothes, and metal stands; each 13 1/2 by 6 1/2 inches and selling for $3,500.


Probably thinking that this large painting by Michael Brophy, being shown by Laura Russo Gallery of Portland, Oregon, is inappropriate for the lobby of Georgia Pacific's corporate headquarters. Oil on canvas, 87 by 79 inches, $6,800.


Michael Boyd, songwriter and furniture collector, with a rather reflective head of a woman by Bridgitte Niedermair on display at B&D Studio of Milan. 31 1/2 inches square, Lambda print on aluminum, $2,500.


Signage at Allan Stone Gallery of New York City. We were too embarrassed to ask whether these admonitions are typical of all shows that Stone participates in or just the one in San Fancisco.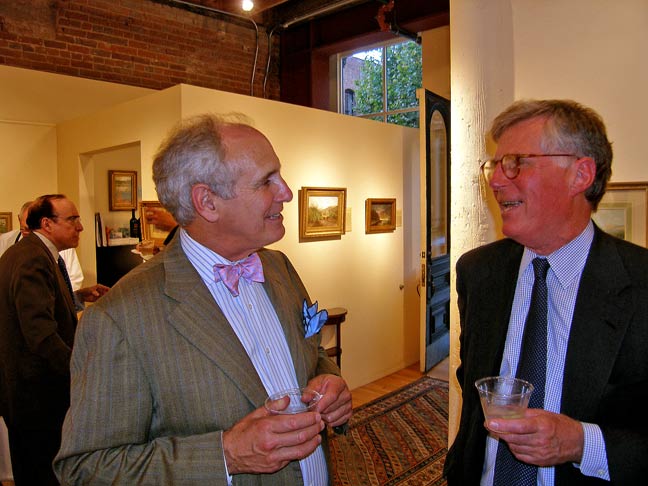 Unfortunately, none of our digi-pics of the nice people at San Francisco's Montgomery Gallery came out. Fortunately, we have this image of the gallery's distinguished president, Peter Fairbanks (left), in our files.

Current Features
How to Buy Art on Instagram and Facebook
More and more people are buying more and more art online all the time, not only from artist websites or online stores, but perhaps even more so, on social media ...
Collect Art Like a Pro
In order to collect art intelligently, you have to master two basic skills. The first is being able to...
Services for Artists and Collectors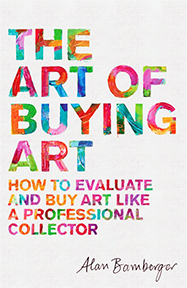 Buy the Book