CALIFORNIA WATERCOLORS, 1850-1970
by Gordon McClelland and Jay Last
The California Style, California Watercolor Artists, 1925-1955, Gordon McClelland and Jay Last's first book, has been the number one reference book for California School watercolor collecting ever since it came out in 1985. Their new book, California Watercolors, 1850-1970, An Illustrated History and Biographical Dictionary takes up where the first one left off, not only in terms of updates, but also by expanding on the time period it covers and number of watercolorists it includes. Over 300 color illustrations and over 550 artist biographies make The California Style, California Watercolor Artists, 1925-1955 one of the better regional art surveys ever written.
Rather than approach California watercolor history in strict chronological fashion, the book's first three chapters discuss its evolution from three distinct stylistic points of view. Chapter One details the history of realistic subject matters; Chapter Two focuses on a type of watercolor known as "The California Style;" and Chapter Three deals with abstract and non-objective subject matters. Chapter Four contains brief artist biographies, many of which were obtained from the artists themselves. The book concludes with an artist index and select photographic images of some of the watercolorists.
Many of the watercolors reproduced in the book are award-winning paintings and serve as exceptional examples by which others may be judged. Collectors should keep in mind that many of the watercolors illustrated in McClelland and Last's first book are not included in their current book. In other words, anyone serious about collecting California watercolors of any time period should have both volumes in their art reference libraries.
The California Style, California Watercolor Artists, 1925-1955 by Gordon McClelland and Jay Last; Hillcrest Press, Inc., Santa Ana, CA, 2002, hardbound, dustjacket, 231 pages, illustrated, 8 3/4 by 11 1/4 inches. $49. plus tax and shipping.
Available from Hillcrest Press, 3412 MacArthur Blvd, Unit G, Santa Ana, CA 92704 or call 1.800.248.8057. You can also email hillcrestpi@earthlink.net or visit the Hillcrest Press website.

Current Features
How to Buy Art on Instagram and Facebook
More and more people are buying more and more art online all the time, not only from artist websites or online stores, but perhaps even more so, on social media ...
Collect Art Like a Pro
In order to collect art intelligently, you have to master two basic skills. The first is being able to...
Services for Artists and Collectors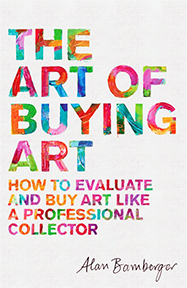 Buy the Book