***

Get your art fix fast: Instagram @alanbamberger
***
San Francisco Fall Antiques Show 2017 at Fort Mason Center Festival Pavilion: Preview Gala
Exhibitors: Aedicule, American Garage, Antonio's Bella Casa, Arader Galleries, Butchoff Antiques, Carlton Hobbs LLC, Charles Plante Fine Arts, Clinton Howell Antiques, Daniel Stein Antiques, Inc., David Brooker Fine Art, Earle D. Vandekar of Knightsbridge Inc., epoca, Finnegan Gallery, Foster Gwin Gallery, Galen Lowe Art & Antiques, Gallery 925, Guarisco Gallery, Hayden & Fandetta Books, Haynes Fine Art, Henry Saywell, Isaac & Ede, J.R. Richards Gallery, James Sansum Fine & Decorative Art, Janice Paull, Jayne Thompson Antiques, Jeff R. Bridgman American Antiques, Jesse Davis Antiques, Jill Fenichell, Inc.m Joel Cooner Gallery, Kentshire, Lang Antique & Estate Jewelry, Lawrence Jeffrey, Los Angeles Fine Art Gallery, Lotus Gallery, Milord Antiques, MODERNISM INC., Montgomery Gallery, The Orange Chicken, Patrick & Ondine Mestdagh, Peter Finer, Peter Pap Oriental Rugs, Inc., The Philadelphia Print Shop West, Rainforest Baskets, Roberto Freitas American Antiques & Decorative Arts, Schillay Fine Art, Il Segno del Tempo Srl, Steinitz Gallery, Trinity House Paintings, Yew Tree House Antiques, The Zentner Collection, Inc., 66mint Fine Estate Jewelry.
Comment by AB: The San Francisco Fall Art & Antiques Show is center stage for yet another glorious run. More and more art is making its way into the mix, from antique to contemporary, in addition to an exemplary array of rarities from around the world, here in SF courtesy of select international exhibitors. This extravagant wing-ding is the place to be for the social set with no shortage of outrageous outfits and fashion plates galore. Oh... I almost forgot. The reason why we're all here is the fabulous selection of everything from art and heirloom jewelry to suits of armor, abstract expressionism, antique firearms, fine rugs, ceramics, sculptures, vintage advertising, bathing suits, antique and vintage modern furniture and decorative arts, flags and banners, rare books, weavings, maps, prints, garden ornaments, and more, more, more. No other event like this in San Francisco. It's all kinds of treats for the eyes. And a treasure hunt too; you never know what you're gonna find. Don't believe me? Here, check these visuals... and then head on down to Fort Mason's Festival Pavilion and indulge your fancies firsthand.

Palissy Ware at Jesse Davis - SF Fall Art & Antiques Show, Fort Mason.


John Atkinson Grimshaw art at Trinity House - $450K.


Flag-a-rama at Jeff R Bridgman - who wouldn't want a flag?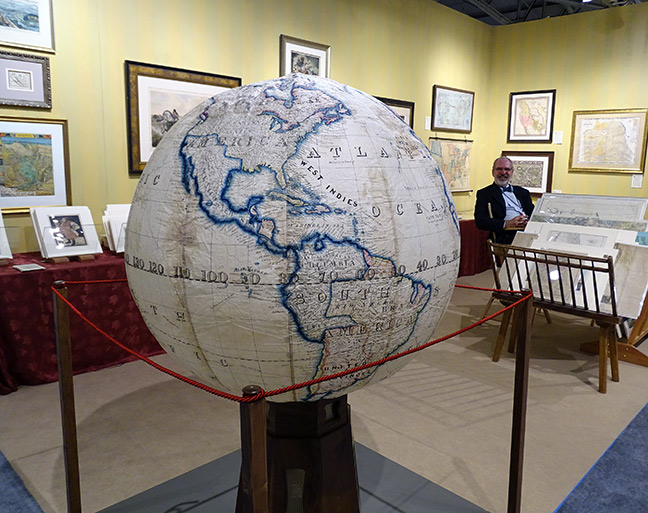 Rare inflatable paper globe circa 1830s-40s (like it).


Globe in above image closer at Philadelphia Print Shop West - $12.5K.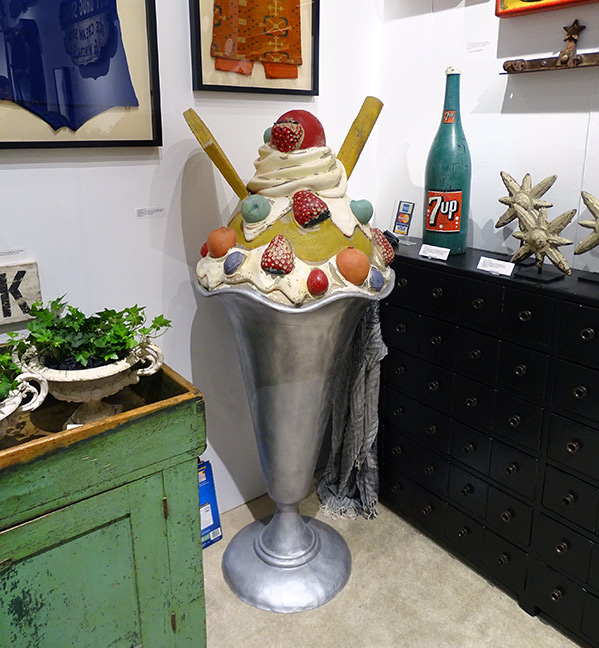 Vintage advertising art at American Garage (always good).


Cherry early Nathan Oliveira at Foster Gwin - $245K.


Tang Dynasty Figure at JR Richards - $9.5K.


Louise Nevelson ceramics at The Orange Chicken - $18-22K.


Cartier cornucopia at Lawrence Jeffrey.


Chinese ceramic figurines at Lotus Gallery.


Talking treasures at Zentner Collection. Sorry, the bunny's sold.


Anatomical model of a bee at Patrick & Ondine Mestagh (love it).


Bee in above image from the good side - all removable - $6.5K.


Verdura jewelry at Kentshire.


Canvas sculpture by Mary Little at Galen Lowe (like it).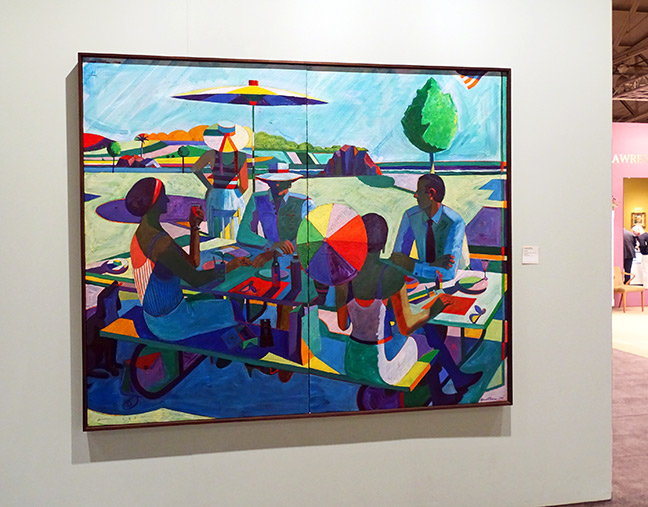 Roland Petersen art at Montgomery Gallery.


Steinitz of Paris brings the entire room (like it).


Relative density - a good time was had by all - SF Fall Art & Antiques Show.


***