Benezit Artist Encyclopedia Adds Four New Volumes
CLICK FOR UPDATE MAY 26, 2006: BENEZIT NOW AVAILABLE IN ENGLISH.
The French artist encyclopedia, Dictionnaire des Peintres, Sculpteurs, Dessinateurs et Graveurs Benezit or Benezit for short, is the most popular, best selling, and widely consulted artist biographical encyclopedia in the world. It first appeared in 1911 and has been revised approximately every twenty years since. The last major revision was done in 1976 when the encyclopedia expanded from eight to ten volumes. This new edition increases it to an impressive fourteen volumes (6,000 additional pages) containing information on approximately 200,000 artists of all time periods and nationalities.
These massive changes constitute the most substantial Benezit revision ever. Highlights include the addition of tens of thousands of new artists, the updating of data in tens of thousands of existing entries, and an easier to read format. All entries contain basic biographical information, specialties and, when available, birth and death dates, signature examples, price records, exhibition histories, awards, career milestones, and genealogical details when relevant.
The advantage of Benezit over artist indexes like Davenport's Art Reference and Price Guide is that it contains far more detailed biographical data. Davenport's is a first step in artist research and, even though it's a great reference, it only provides the most basic biographical data and refers you to sources of more complete information. Benezit is one of those sources. Often, it provides the most comprehensive listing on an artist available anywhere. It also lists many artists who are not found in artist indexes or price guides.
The main drawback of Benezit for Americans is that it's in French, but most libraries and universities have people on hand who can translate the entries for you. Even when you can't read French and no one is available who can, the encyclopedia still important to check because if an artist is listed, that probably means that he or she is collectible somewhere and that further investigation is warranted. So whenever you're researching an artist and whether you speak French or not, make sure you check Benezit.
Most major libraries, museums and universities already have Benezit in their art reference sections. Not all art librarians, however, are aware of this new revised and expanded edition. That's where you come in-- tell them it's out and make sure they buy it. In the art business, information means profits and when it's information you need, Benezit has it far more often than not.
E. Benezit; Dictionnaire des Peintres, Sculpteurs, Dessinateurs et Graveurs edited by Jacques Busse. Editions Grund, Paris, 1999, hardbound, 14 Volumes, approximately 13,500 pages, 6 1/2 by 9 5/8 inches, $795 plus $24 shipping. Available from Omnigraphics, Inc., Order Department, PO Box 625, Holmes, PA 19043 or call 800-234-1340. You can also order directly from the Omnigraphics website.
***
Best Photography Auction Price Reference Available
The accessibility of photography price information has lagged well behind that of fine art primarily due to the fact that photograph collecting is a relatively new discipline. In recent years, however, Gordon's Art Reference, Inc. has taken on the task of cataloguing and publishing selling prices for photographs. Gordon's is already the leading publisher of print price information and because of the numerous similarities between prints and photographs, they're the perfect people for the job.
Their new CD-ROM, Gordon's Photography Prices, 1999-1970, is the culmination of their research and compilation efforts to date and is the best photograph price reference available anywhere. It contains nearly 100,000 individual price entries for photographs by over 8,000 photographers from auctions and dealers from around the world. Each entry contains detailed information including image size, title, date, signature location, type of print, date of auction, name of auction house, and lot number in the catalogue. Searches can be made by photographer, title, auction house, and other customizable perameters like partial title, subject matter, size, price range, sale date, and lot number.
An interesting aspect of this price reference is that it provides sales data not only on individual photographers by name, but also on photographs that are only initialed, signed or stamped with single names, identified only by company, or are anonymous or unsigned. Records for books and periodicals with original photographs are also included. This variety of formats is necessary because many photographers have yet to be identified, rediscovered, researched or documented. So even when a photographer or company is totally unknown, Gordon's is still worth consulting along other parameters such as title and subject matter.
Also included on the CD-ROM are international directories of auction houses, photography dealers, and fine print dealers; a trilingual photography/print lexicon (English, French, and German), extensive bibliographies, and instructions on how to effectively use the disc. It represents the state-of-the-art in photography price references and is an essential tool for anyone who's researching fine contemporary or vintage photographs.
Note: Macintosh users need PC emulating software in order to run this CD-ROM. Gordon's provides Virtual PC at no charge to Mac users who purchase any Gordon's CD-ROM and do not yet have such an application installed.
For those of you who prefer your photography price records in book form, Gordon's Photography Price Annual International, 1999 contains over 6,000 worldwide auction records from the calendar year 1998.
Gordon's Photography Prices, 1999-1970, CD-ROM edited by Jodie Benson. Gordon's Art Reference, Inc., Phoenix, 1999. Nearly 100,000 entries. Available for Windows 98, 95, NT, 3.1, and Macintosh. Initial subscription: $595. plus $4. shipping. Subsequent annual updates: $195.
Gordon's Photography Price Annual International, 1999 edited by Jodie Benson, Gordon's Art Reference, Inc., Phoenix, 1999, hardbound, 330 pages, 8 1/2 by 11 inches, $95 plus $6. shipping.
Available from Gordon's Art Reference, Inc., 306 West Coronado Road, Phoenix, AZ 85003 or call 1-800-892-4622.
***
Art Print Index
The Art Print Index is primarily a dealer resource for buying and selling contemporary prints, but it's actually much, much more. The primary focus of the book is as an index of current retail price and publisher contact information for nearly 100,000 prints, both limited and unlimited editions. It also contains educational sections like a dictionary of terms, an art history time line, a list of major museums, a calendar of exhibitions, and selected artist biographies.
Prints can be searched by artist, publisher and title. Each print entry includes the name of the artist, size, retail price, and publisher. In many instances, contact information is also given for dealers and publishers who may stock additional titles that are not listed.
Collectors can use the book to purchase prints by their favorite artists. Decorators can use it to locate specific images by title or subject matter. Sellers can use it to track down dealers or galleries who may be willing to handle or buy back their prints. People who prefer computers to books can sample a free trial CD-ROM which comes with the index and can be made capable of showing 50,000 images.
Update as of February 1, 2006: Art Print Index contact information below is no longer accurate. Art Print Index no longer appears to be in publication.
Art Print Index, 1999 Annual edited by Bill Lederer, art.com, Inc., Lake Forest, IL, 1999, softbound, illustrated, approximately 800 pages, 8 5/8 by 10 7/8 inches, $99. Available from Art Print Index, 13820 Polo Trail Drive, Lake Forest, IL 60045-9962 or call 1-800-346-5924.

Current Features
How to Buy Art on Instagram and Facebook
More and more people are buying more and more art online all the time, not only from artist websites or online stores, but perhaps even more so, on social media ...
Collect Art Like a Pro
In order to collect art intelligently, you have to master two basic skills. The first is being able to...
Services for Artists and Collectors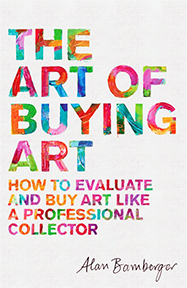 Buy the Book