Seybold Seminars San Francisco: Giclee Update 2002 Read the latest giclee update, posted September 11, 2003: Seybold Seminars San Francisco: Giclee Update 2003.
Late every summer, Seybold Seminars San Francisco showcases the latest advances in publishing technologies. This year's show runs from September 10-12, 2002 at Moscone Convention Center and for digital fine artists, photographers, artists who incorporate digital techniques into their art, and artists who reproduce their originals as limited edition digital fine art prints (or giclees), the news gets better all the time. In spite of the fact that overall, Seybold San Francisco is considerably smaller than it was several years ago, the art sections are bigger and better than ever.
Quality wide-format printers continue to drop in price, so much in fact, that many digital artists can afford buy and operate their own systems rather than farm printing needs out to fine art publishers. Of special note is the EPSON Stylus Photo 2200, priced at only $699. It's the first desktop printer to use seven pigmented ink cartridges, printing with 2880 X 1440 dpi resolution, and capable of producing images as large as 13 by 44 inches. Print longevity is 100 years for black and white images, 75 years for color images.
Overall, EPSON printers appear favored by digital artists and photographers. Quality high-resolution images, ability to print with pigmented inks on a variety of media, and affordability make for a combination that's hard to beat. Artbusiness.com recommends two free-standing EPSON wide-format printers, the Stylus Pro 7600 at $2995, and the Stylus Pro 9600 at $4995. Both print as high as 2880 x1440 dpi resolution (pretty much the industry standard at the moment). The 7600 prints images as wide as 24 inches and the 9600 maxes out at a healthy 44 inch print width. The top-of-the-line Stylus Pro 10600, costing $9995, also maxes at 44 inch widths, and is faster and capable of using a wider range of inks than the 7600 and 9600, but is more than most artists need.
If you've got money to spend and are looking for either a super-sized printer, a step up in technology, or both, Mutoh's Falcon II series is worth checking out. These 8-color variable dot inkjet printers produce extremely high quality prints in widths as wide as 86 inches (Model RJ-8000/87). Other features include 2880 dpi resolution; a 21 gig internal hard drive; dynamic variable dot printing in four, six or eight colors; and capabilities of using either dye-based or pigmented inks simultaneously. The RJ-8000/50 prints as wide as 49 inches and costs $25,000, the RJ-8000/64 prints as wide as 63 inches and costs $28,000, and the RJ-8000/87 prints as wide as 86 inches and costs $38,000.
Hewlett-Packard's designjet series is also worth a look. The 5500 series offers a 42-inch model, ranging in price from $10,500 to $18,000, depending on the features selected, and a 60-inch model, ranging in price from $14,000 to $22,500. They also offer a designjet 2500CP specifically for art applications, but on the wide-format section of the HP website, this model appears to be discontinued (although it may still be available).
Additional notes and pics from the event:
Digital photographer Stephen Johnson (the guy with the ponytail)) is experimenting with a new product called Imageprint that he says allows him to bypass EPSON drivers, adjust colors, print in finer dot patterns, and produce higher quality images than EPSON printers alone are capable of producing.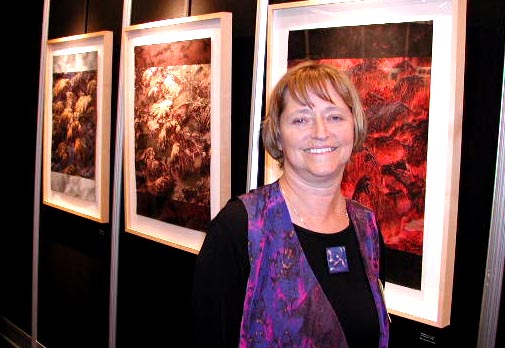 Karen Schminke of Digital Atelier recommends a line of new products from InkAID. These pre-coats allow artists to coat and then print on virtually any media that can be safely run through a printer. They also allow far greater flexibility when combining traditional and digital media in the same work of art. InkAID pre-coats cost $20 per quart and $60 per gallon.


Lamp shade made from fabric printed on an HP inkjet printer.


Quilt incorporating fabric printed on an HP inkjet printer.


For technical data about how long different inks last on a variety of media before noticeable fading occurs, visit Henry Wilhelm's website, wilhelm-research.com. His fade test results are recognized throughout the digital fine art industry.
Visit the SeyboldSF Digital Art Contest and Gallery (this link is older because the SF 2002 gallery is not yet online). The annual juried event shows work by digital artists from the United States and Canada.

Current Features
How to Buy Art on Instagram and Facebook
More and more people are buying more and more art online all the time, not only from artist websites or online stores, but perhaps even more so, on social media ...
Collect Art Like a Pro
In order to collect art intelligently, you have to master two basic skills. The first is being able to...
Services for Artists and Collectors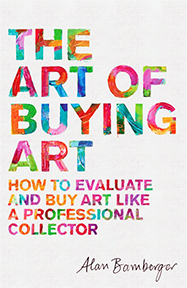 Buy the Book