2007 artprice CD-ROM & Online Database Products
Posted December 27, 2007
artprice, a preeminent provider of international art auction sales price records in both online database and CD-ROM forms has now released the 2007 version of their CD-ROM covering international auction sales held between January 1987 and June 2007. Their artprice database products continue to improve, particularly in terms of speed and ease of use. Perhaps the major improvement of this latest CD-ROM over previous versions is its connectivity to the artprice online image database (for more about this, click this link to read the artprice Images review). The upshot? artprice continues to make available the best and most affordable art and artist database products on the market.
Included in the price of the 2007 CD-ROM is unlimited access to artprice online databases which include the latest auction results not listed on the CD-ROM, a database of 36,000 artist signature examples, information about artist market trends, and a database of artist biographies-- the package providing pretty much all the basic art research tools anybody needs. Plus the CD-ROM works on Mac or PC-- anywhere, all the time, and assuming you're connected to the internet, you can easily move back and forth between the CD-ROM and online databases.
The twenty years of auction records on the Fine Art CD-ROM, January 1987/June 2007 include nearly 5,000,000 individual auction price results for paintings, drawings, sculptures, ceramics, miniatures, tapestries, prints, posters, audio visual and multimedia works, and photographs by over 400,000 artists sold by nearly 3,000 international auction houses many many thousands of auctions held between January 1987 and June 2007. The good news? It's simple to install (I've never had a problem on my Mac).
You can access data in a variety of ways including by artist, medium, title of the art, date of sale, location of sale, and auction house. Multiple parameter searches are also possible when you want to limit the number of results, or track the price histories of single works of art. Advanced search options include abilities to search by single words in a work of art's title, by specific subject matters, and my favorite-- the option to search by typing in three (or more) consecutive letters within an artist's name (extremely handy when you can only partially decipher the signature and identify the artist).
Additional options make analyzing an artist's auction data and price structure easier than ever. For example, you can arrange an artist's auction results (either high to low or low to high), by sale date, selling price, dimensions of the art, or by dates the art was created. You can also separate out all works in a given medium-- for example, if you're researching a print by an artist who also painted and sculpted, you can isolate out just the artist's prints.
Since the artprice online database is continually updated with the most recent auction sales results, you can easily see whether art by a particular artist has sold between the CD-ROM's cut-off date of June 2007 and the current date. Simply open an online connection, start the CD-ROM on your computer, type in the artist you're looking for, and then click straight from that artist's price results page to the corresponding artprice online results page (or go directly to the artprice website and do it entirely online). The artist's sales results appear chronologically beginning with the most recent sale and are catalogued by sale date, title, size, and medium.
The 2007 artprice CD-ROM and online art price databases are excellent products-- especially with the new online image database-- and I highly recommend them for researchers, collectors, and appraisers who need current price information on a regular basis.
Fine Art, January 1987/June 2007 including one year of artprice online database subscriptions. artprice, St.-Romain-au-Mont-d'Or, France, 2007. $389 for a new subscriber. The annual update is $259 (for those who already own the 2006 CD-ROM). To order directly from the artprice website or learn about other artprice products, services, and subscription options, click the artprice logo below:

Current Features
How to Buy Art on Instagram and Facebook
More and more people are buying more and more art online all the time, not only from artist websites or online stores, but perhaps even more so, on social media ...
Collect Art Like a Pro
In order to collect art intelligently, you have to master two basic skills. The first is being able to...
Services for Artists and Collectors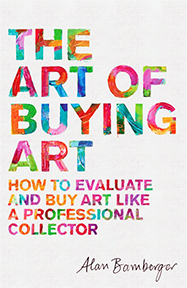 Buy the Book